PRESS RELEASE
Onward Search Wins ClearlyRated's 2023 Best of Staffing Client and Talent Awards for Service Excellence
Fewer than 2% of all staffing agencies in the U.S. and Canada earn the Best of Staffing designation
NORWALK, CT | May 23, 2023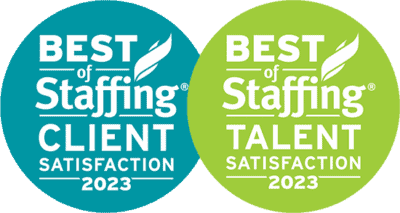 Onward Search, a leading staffing agency for creative, marketing and technology professionals, announced today that it has won ClearlyRated's Best of Staffing Client and Talent Awards for providing superior service to its clients and candidates.
Presented in partnership with Indeed and Talent.com, ClearlyRated's Best of Staffing® Award recognizes staffing firms that have demonstrated exceptional service quality based exclusively on ratings provided by active clients and talent. On average, clients and candidates of winning agencies are 70% more likely to be completely satisfied with the services provided compared to those working with non-winning agencies.
Onward Search received satisfaction scores of 9 or 10 from 72% of their clients, significantly higher than the industry's average of 46%. They received satisfaction scores of 9 or 10 from 67% of their working talent, also significantly higher than the industry's average of 45%.
"Winning these awards, that are based solely on the feedback of our clients and talent, is a huge honor," stated Ken Clark, CEO of Onward Search. "Providing amazing service is one of our core values and drives the way we do business with our customers. Our teams are truly passionate about helping our clients find great talent for their organizations."
"I am pleased to introduce the 2023 Best of Staffing winners alongside their validated service ratings on ClearlyRated.com," said ClearlyRated's CEO, Eric Gregg. "These firms have demonstrated a remarkable commitment to delivering amazing experiences, despite another year of upheaval and macroeconomic uncertainty. Hats off to these service leaders – it's truly an honor to recognize and celebrate their achievements."
Onward Search is coming off an award-winning year in which it was named a "Top 100 Staffing Firm" at the World Staffing Awards. The company was also rated as a "Best Company to Work for Women" by Comparably, an employment review site with the mission of "providing the most accurate and comprehensive compensation and culture data."
About Onward Search:
Onward Search is a specialized workforce solutions provider that empowers creative excellence, brand engagement, and digital innovation. The firm helps leading companies connect with remarkable talent, build scalable teams, and accelerate strategic projects.
Founded in 2007, Onward Search is headquartered in Norwalk, CT, and services clients in all 50 US states. Divisions include Onward Imagine and Onward Play. The company has been recognized by ClearlyRated as a Best of Staffing winner for its service to clients and talent.
Media Contact:
Steve Dobrowski
VP, Marketing
203.210.1447
sdobrowski@onwardsearch.com