PRESS RELEASE
Onward Search Names Don Weis as Senior Vice President of Operations
NORWALK, CT | November 11, 2022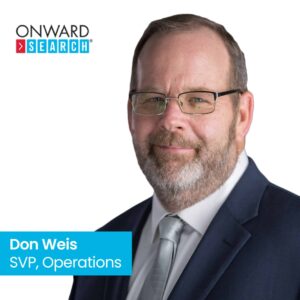 Onward Search, a specialized workforce solutions provider in the creative, marketing and technology space, announced that Don Weis has joined the company as Senior Vice President of Operations. In this role, Weis will oversee and centralize the company's national recruiting, sales and delivery operations. 
With over 35 years of leadership experience in a wide variety of industries, Weis is well-recognized as a recruiting and operations innovator who brings creative solutions to challenging staffing issues. Throughout his decorated career, Weis has built and overseen local, national and international recruitment teams. He also served in the United States Air Force, including 14 years in Recruiting Services.
Weis comes from Cross Country Healthcare, where he acted as Senior Vice President of Operations for the company's Workforce Solutions division. Prior to that, Don co-developed Cross Country's Search division, successfully merging three independent business lines. He also served as Senior Vice President/Managing Director of the Physician Search Division at Cejka Search and held key positions with Randstad and SFN Group (Spherion). 
"I'm thrilled to welcome Don to our executive team," shared Eliana Hassen, CEO of Onward Search. "He is a hands-on leader with deep operations experience we will leverage to achieve continued organizational growth, serve our customers with increased speed, and continue to help our talent find the jobs of their dreams." 
"I'm highly excited to join Onward Search," said Weis. "What impresses me most about this organization is its strong customer focus, dedication to service excellence, and ability to change with the market. I look forward to helping Onward continue to optimize its operations across functions." 
About Onward Search:
Onward Search is a specialized workforce solutions provider that empowers creative excellence, brand engagement, and digital innovation. The firm helps leading companies connect with remarkable talent, build scalable teams, and accelerate strategic projects.  
Founded in 2007, Onward Search is headquartered in Norwalk, CT, and services clients in all 50 US states. Divisions include Onward Imagine, Onward Play, and Onward Select. The company has been recognized by Clearly Rated as a Best of Staffing winner for its service to clients and talent.  
Media Contact:
Connie Dye
VP, Marketing
804.301.3084
cdye@onwardsearch.com