A TALENT RECRUITMENT AGENCY
Digital Creative Marketing
Recruitment and Staffing Services
In a market where creativity and technology work together, we connect skilled professionals with the best jobs in the country. We know those jobs because our recruiters know all sides of the equation. We cultivate relationships. We work with communities of talent and business leaders alike. We build teams to meet the demands of today's workplace.
Talent Management Solutions
Freelance Staffing
Contract-to-Hire
Direct Hire Placement
Payroll Services
Enterprise Solutions
Industries and Specialties
When businesses need the support of specialized professionals to meet project milestones or increase the level of their most valuable asset (people), they turn to us. We service the nation's best interactive agencies and most innovative companies in a variety of fields including the below.

Advertising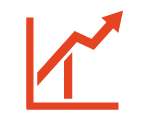 Financial

Entertainment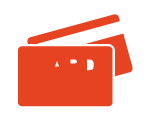 Retail

Hospitality

Tech
People and Culture
We have an eye for talent and a heart for all things digital.
We believe creativity gives digital dimension. We "get" the creative mindset because we are designers, developers, social media experts and online marketers. We geek out to all things web-related.
We'd love to talk to you about your needs or your career, or just chat about what's going on in the industry. So feel free to connect with us via email, social media, or yes, even the phone!
Apps and Technology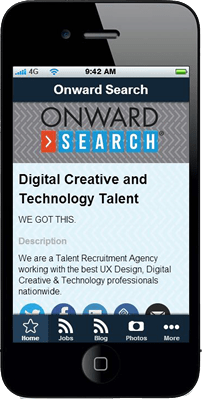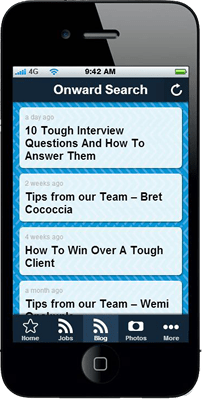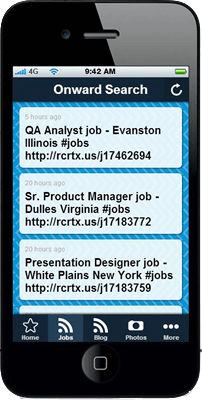 Our new mobile app allows you to stay connected to all things Onward Search. Check out the latest job openings, news, blog posts, photos and social feeds through one convenient platform.
Every month, we give one lucky user a $50 gift card to your choice of iTunes, Google Play or Amazon! So what are you waiting for, download the app today.