Your Search Ends Here
If you have talent, or need the talent, your search ends here. We connect the best digital creative and technology professionals with jobs at the nation's best interactive agencies and most innovative companies.
Who We Are
In a market where creative and technology work together, we connect skilled professionals with the best jobs in the country. We know those jobs because our recruiters know all sides of the equation. We cultivate relationships. We work with communities of talent and business leaders alike. We build teams to meet the demands of today's workplace.
The digital world is quickly changing and always evolving.
So are we. You have to love digital to keep pace with it.
So we do. It fuels our responsive, entrepreneurial and adventurous souls.
We immerse ourselves in professional organizations, technology forums, trade events, panel discussions and innovation hot spots to make sure we always have our eye on the next big thing for our talent and clients.
What We Provide
When our clients need the support of specialized professionals to meet project milestones or increase the level of their most valuable asset (people), they turn to us. We offer a full range of recruiting, staffing, and talent management solutions to include temporary staffing, contract-to-hire, direct hire, and executive level search to meet the needs of your organization.

Contract Staffing
When you are looking for talent with a specific skill set or expertise ASAP

Executive Search
When you need help finding the right senior level talent for your company

Enterprise Accounts
When you need to fill multiple needs at the local level for a nationwide company
About Us
We have an eye for talent and a heart for all things digital.
We believe creativity gives digital dimension. We "get" the creative mindset because we are designers, developers, social media experts and online marketers. We geek out to all things web-related.
We'd love to talk to you about your needs or your career, or just chat about what's going on in the industry. So feel free to connect with us via email, social media, or yes, even the phone!
Stay Connected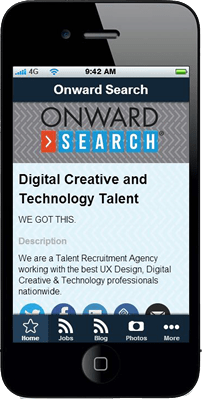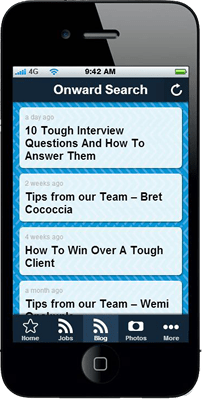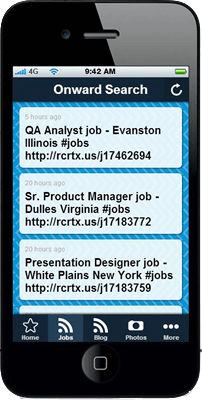 Our new mobile app allows you to stay connected to all things Onward Search. Check out the latest job openings, news, blog posts, photos and social feeds through one convenient platform.
Every month, we give one lucky user a $50 gift card to your choice of iTunes, Google Play or Amazon! So what are you waiting for, download the app today.