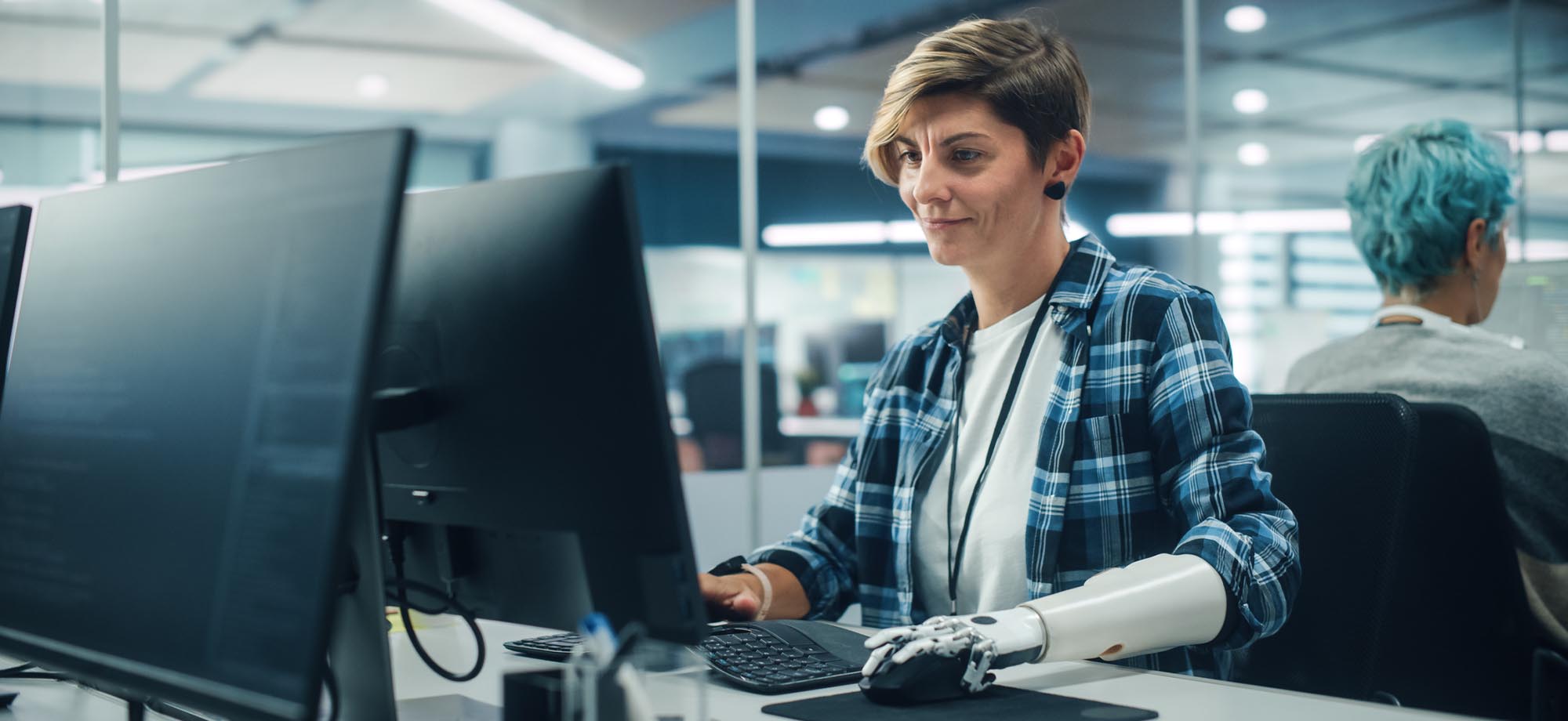 It's time to stop asking why accessibility should be a priority and start thinking about how you can make it a reality. Accessible products and services are your doorway into a trillion-dollar market. Inclusion initiatives boost brand image. Plus, accessibility is a civil right protected by the Americans with Disabilities Act.
Add that A11Y solutions both lead to workplace innovations and deliver a more intuitive user experience for everyone, and one would wonder why only 3% of websites are fully optimized for accessibility. The answers are as numerous as the myriad of challenges businesses face whenever single-size solutions do not fit all.
Here eight tips from industry leaders on how to operationalize accessibility and inclusive design:
1. Make the business case for accessibility and inclusive design.
A strong business case will open doors and remove obstacles that would otherwise impede your design team's ability to succeed.
Gather data tailored to your industry, specific to your company's business. There are more than 1 billion people with disabilities across the globe, representing more than $8 trillion in spending power. "Demonstrate how the organization can get a piece of this," says Monica Goel, Executive Director, Accessibility, CVS Health.
A comprehensive, well-researched plan will include more than the benefits of market expansion and corporate social responsibility. Address your costs, and estimate financial expenses such as focus groups and training.
Don't just speak to the costs of not taking action; estimate your future return on investment, explain how you measure success, and propose a plan to track your progress.
2. Lead with the rewards achieved, not the risks averted.
Efforts to operationalize accessibility and inclusive design encompass not only a legal obligation but an ethical responsibility and a business opportunity.
Avoiding expensive lawsuits is a compelling motivator, but if you're advocating for accessibility advancement within your organization, risk mitigation shouldn't be the primary focal point of your conversation.
Leaders have found that positive messages about the opportunities created by accessibility are often more likely to inspire action, gain executive buy-in, and set your accessibility initiatives up for success. Thankfully, there are many to choose from.
Accessibility has been proven to contribute to cost savings, customer satisfaction, and brand value, among other positive outcomes. Communicating these unexpected benefits will help you persuade key players within your organization to recognize the importance of this work.
3. Learn what your team wants. Then, give it to them.
It is essential to know your internal teams as well as you know your customers.
Learn their motivations, study their challenges, and empower those you work alongside to achieve their objectives. If you demonstrate how accessibility and inclusive design will help your team members reach their goals, you can gain the support your initiative needs to succeed.
"What I've found useful in interacting with individual teams is… getting on the same side as the product manager and understanding what their KPIs are," says Sukriti Chadha, Product Leader, Spotify, and the author of "Beyond Accessibility Compliance: Building the Next Generation of Inclusive Products" (Apress, 2022).
"By beginning there, you'll find that the teams will be on your side and will work with you on defining what their most important user flows are, and from there, you can work backward," Chadha continues.
"You need to be really strategic," says Ricardo Garcia, Digital Inclusion Consultant, Atos." You need to rely internally on a whole host of people. We're building a network of disability and inclusivity ambassadors."
4. Uncover customer stories and tap into the power of emotion.
One of the most effective ways to advocate for accessibility is to identify tangible customer pain points and articulate the difference design can make.
"Connect with the customer support and legal teams on reported concerns," Goel advises. "What really, really helps us are customer complaints."
"Tell a story. Put a human element to it, and you will have much greater success," Goel continues. It's not just what you say but how you say it. Your message delivery and storytelling abilities are as critical as the content of your argument.
Showing instead of telling has enabled successful messaging for Hannah Wagner, In-Vehicle Accessibility & Inclusive Design Lead, General Motors. "If you show a video of somebody interacting with a product and they can see that barrier, it makes it easier for them to jump on board and be empathetic."
"Empathy work" is a great starting point, Wagner says. This is where teams listen and identify pain points before determining the problem and solution.
5. Co-design with the customer, for the customer.
It is critical to seek input from the people you're designing for.
Wagner explains, "Co-Design brainstorming sessions can be included in ideation, followed by rounds of user testing, feedback, and/or QA testing from people with disabilities."
"Teams can be very well-intentioned, and they want to design things that will help other people, but if you don't talk directly to the disabled community, then you're designing for them. And that means you're making assumptions about what their needs and wants are," Wagner warns. Her mantra is "Design with and not for."
"Fifty percent of my team members are individuals with disabilities across the spectrum," Goel says. "When you hire people with disabilities, it will help you understand the challenges you have within your own organization from onboarding to software needs to training. The insights and the learning you get from them are beyond everything I could learn on my own."
6. Remember cross-functional is the new functional.
To begin to operationalize accessibility and inclusion, step outside your silo.
"Cross-company collaboration is the secret sauce," says Jeff Wissel, Chief Accessibility Officer, Disability:IN. "Very seldom do we see accessibility come down from senior leadership that says, 'Now create this department.'"
"Sometimes it just begins with one person, and then, you keep broadening your level of influence," says Goel, who began with a team of four in 2018 and now has a department of roughly 100.
Ray Killebrew, Strategic Advisor to Onward Imagine, recommends to "consider starting with an internal workshop that includes representation from Business, Product, IT, Legal, Marketing, Brand, Compliance, and Finance."
7. Set goals, measure results, and share successes.
Successful organizations prioritize clear objectives like identifying accessibility gaps and creating an accessibility policy. Deliverables should be unambiguous and outlined on a manageable timeline that takes competing priorities into consideration. In addition, measuring your goals is as important as setting them.
Tracking your success is critical, and you can define success in many ways. Beyond ROI, your success could be contingent upon increasing internal skills, bolstering customer engagement, or generating positive media opportunities.
Always evaluate your impact, and never underestimate the importance of communicating your achievements. "Have a presence in your organization," says Goel. "Have a page; communicate often. Socialize. Start talking about the accomplishments, the impact."
8. Go from reactive remediation to proactive innovation.
Often, companies launch accessibility teams for remediation purposes. Yet, the most successful initiatives evolve from fixing existing problems to designing solutions that never before existed.
If you focus exclusively on correcting compliance issues, "you're building anxiety-driven solutions and not necessarily innovation-driven solutions," warns Spotify's Chadha. Compliance may widen your audience, but innovation will differentiate your organization.
In addition, proactive planning prevents problems from ever occurring. When you operationalize accessibility into every step of your design process, you save your organization the time, effort, and expense of having to work later.
Design with inclusion in mind, and recognize accessibility as an opportunity to foster change and set your company apart. By operationalizing accessible and inclusive design, your organization will reach and serve a largely untapped market, increase brand value, lower call-center costs, and flourish in unanticipated ways.
---
Onward Search has built a network of 5,000+ accessibility experts. Together, we empower leading brands to recruit top talent, access veteran advisors, and operationalize accessibility.
Speak to an accessibility expert.
Partner with specialists to make your experiences accessible for all.