PRESS RELEASE
Onward Search named the Number One Staffing and Recruiting Company to Work for by Women on InHerSight
Rankings are formulated from anonymous employer ratings and reviews by working women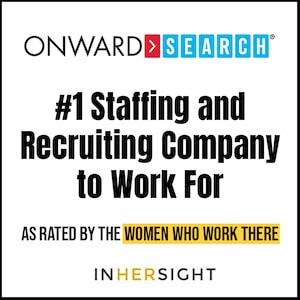 WILTON, CT | Oct 7, 2021 – Onward Search, a leading staffing agency for creative, marketing and technology professionals, announced today that it has been named the number one company to work for by women in the staffing and recruiting space by InHerSight.
InHerSight is an independent website with the goal of helping women make smarter decisions about what companies to work for. It collects data from female respondents on 18 key metrics that matter most to working women, including flexible work hours, maternity and adoptive leave, family growth support, salary satisfaction, mentoring, management opportunities for women, and women in leadership positions.
"As a female leader in this industry, I'm ecstatic to see Onward named the number one place to work for women," said Eliana Hassen, Onward Search Group President. "This is a tribute to the culture we have created where not only women, but all employees, are respected, valued and given a say within our organization. We remain committed to cultivating a diverse workforce where people of all backgrounds can thrive and grow their careers."
"As a woman, I have never felt so supported in my career and personally," wrote one anonymous respondent on the Onward Search InHerSight page. "The ability to work remotely has been life-changing. I've been promoted already and I've only been here for six months. The opportunities for growth here have exceeded my expectations."
Onward Search currently holds a perfect 5.0 score for "Support for Diversity" and "Sense of Belonging" on InHerSight. The company was recently named a "Best Company for Women" by Comparably, an employment review site with the mission of "providing the most accurate and comprehensive compensation and culture data." CEO and co-founder, Ken Clark, was also recognized on their list of "Best CEOs for Women."
About Onward Search:
Onward Search is an award-winning recruitment and staffing agency with the mission to connect the nation's top companies with the best creative, marketing, and technology talent in the industry. Founded in 2007, the company is headquartered in Wilton, CT with regional offices across the US servicing clients in all 50 states. Onward Search also has a dedicated technology staffing division, Onward Select, and a dedicated staffing division for gaming companies, Onward Play.
Media Contact:
Steve Dobrowski
VP, Marketing
203.210.1447
sdobrowski@onwardsearch.com