PRESS RELEASE
Onward Search Wins ClearlyRated's 2021 Best of Staffing Client and Talent Awards for Service Excellence
Fewer than two percent of all staffing agencies in the U.S. and Canada earn the Best of Staffing designation.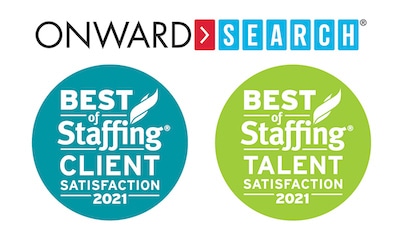 WILTON, CT | Aug 24, 2021 – Onward Search, a leading staffing agency for creative, marketing and technology professionals, announced today that it has won the Best of Staffing Client and Talent Awards for providing superior service to its clients and candidates. The company's dedicated technology division, Onward Select, also received both awards.
ClearlyRated's Best of Staffing® is an industry award recognizing staffing firms that have demonstrated exceptional service quality based exclusively on ratings provided by active clients and placed talent. On average, clients and candidates of winning agencies are twice as likely to be completely satisfied with the services provided compared to those working with non-winning agencies.
Onward Search received a Net Promoter® Score of 70.7% from their clients, significantly higher than the industry's average of 28% in 2020. Their talent Net Promoter® Score was 72.8%, more than four times the industry's average of 18% in 2020.
"Winning this award, that is based solely on the feedback of our clients and talent, is a huge honor," stated Eliana Hassen, Group President of Onward Search. "The commitment to provide amazing customer service is one of our core values and something that we work hard to achieve through every client and talent interaction. Our teams are truly passionate about connecting people with career-building jobs at great companies and helping our clients achieve their strategic objectives through critical talent placements."
"After one of the most turbulent years in modern history, winners of the 2021 Best of Staffing award have proven their commitment to go above and beyond in support of their clients and placed talent," said ClearlyRated's CEO and Founder, Eric Gregg. "These service leaders have demonstrated their capacity to be agile, to be precise, and to prioritize the client and talent experience above all else. It is my honor to celebrate and showcase the 2021 Best of Staffing winners alongside feedback from their actual clients and placed talent on ClearlyRated.com!"
Onward Search is coming off an award-winning year in which it was named a "Best Company for Women" by Comparably, an employment review site with the mission of "providing the most accurate and comprehensive compensation and culture data." CEO and co-founder, Ken Clark, was also recognized on their list of "Best CEOs for Women."
About Onward Search:
Onward Search is an award-winning recruitment and staffing agency with the mission to connect the nation's top companies with the best creative, marketing, and technology talent in the industry. Founded in 2007, the company is headquartered in Wilton, CT with regional offices across the US servicing clients in all 50 states. Onward Search also has a dedicated technology staffing division, Onward Select, and a dedicated staffing division for gaming companies, Onward Play.  The company has been recognized as a Best of Staffing winner for service excellence to clients and talent in 2021.
About ClearlyRated 
Rooted in satisfaction research for professional service firms, ClearlyRated utilizes a Net Promoter® Score survey program to help professional service firms measure their service experience, build online reputation, and differentiate on service quality. Learn more at https://www.clearlyrated.com/solutions/.  
 About Best of Staffing  
ClearlyRated's Best of Staffing® Award is the only award in the U.S. and Canada that recognizes staffing agencies that have proven superior service quality based entirely on ratings provided by their clients and placed talent. Award winners are showcased by city and area of expertise on ClearlyRated.com—an online business directory that helps buyers of professional services find service leaders and vet prospective firms with the help of validated ratings and testimonials. 
Media Contact:
Steve Dobrowski
VP, Marketing
203.210.1447
sdobrowski@onwardsearch.com