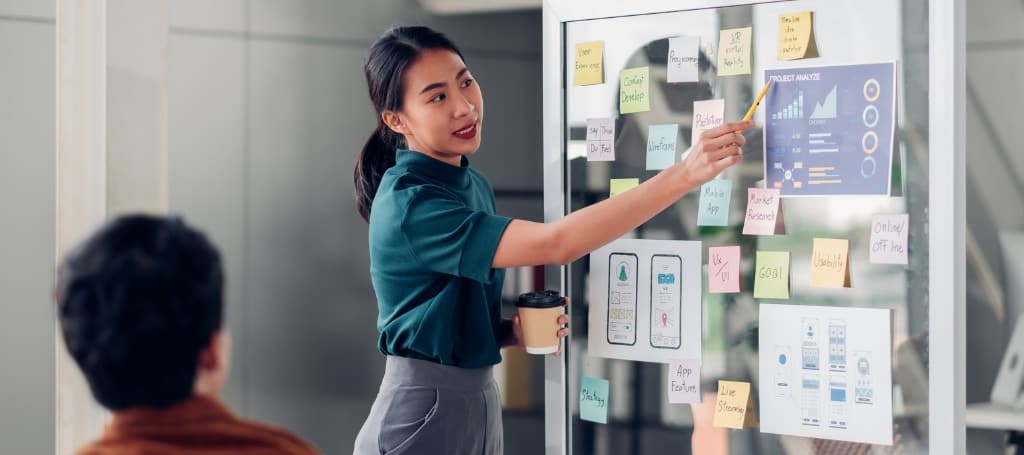 The words "I'm a designer" no longer mean what you think.
When the average person hears "designer," graphic design might be the first area that comes to mind. After all, art is among the oldest of design trades. However, by today's definition, "design" is not just one field but many. User interface (UI) design. User experience (UX) design. Product design. Experience design (XD). Countless interconnected design careers sit at the intersection of creative and technology.
While UI and UX may seem interchangeable to the uninitiated, they also have distinct meanings to many of today's designers. Whether you're hiring designers or considering your next career move, the nuanced difference between design roles could be the difference between the right choice and the wrong one. This article aims to clarify the definitions, distinctions, and connections between design disciplines.
1. UI Design Explained | What are User Interface Designers?
"How does it look?" No matter the project, all graphic designers and UI designers ask this same question for different reasons. While both design roles revolve around visual images, the work differs in imagery type and goal.
The graphic designer's simple mission is to communicate through art. The UI designer's purpose is more complex; they help users navigate and interact with digital media. Unlike graphic design, UI design exclusively focuses on the creation and look of interactive media elements.
While graphic design lives across mediums, UI design is only relevant to digital systems. It deals with the layout, color schemes, and styles of drop-down menus, form fields, buttons, and any digital elements that users directly interact with.
UI Designer Responsibilities:
Design clear and intuitive interface layouts.
Select suitable color schemes and typography.
Create responsive designs that work on different devices.
Collaborate with UX designers to ensure the visual design aligns with user needs.
UI Design Tools Often Used: Sketch, Figma, Adobe XD, Illustrator
2. UX Design Explained | What are User Experience Designers?
"If it looks great but feels cumbersome, is it truly well-designed?" This is a key question in the world of UX. While UI designers focus on the look, UX designers must consider the feel. It's not just about aesthetics; it's about user-friendliness.
UX design is the process of creating the user's overall digital experience – and the impression it leaves. Like UI design, UX design is often considered a digital term. However, UX designers map the user's digital journey – from the first touchpoint to the final cyber interaction.
Good UX means the user interface is not just usable but effective, efficient, and enjoyable. To design UX that delights, designers require a deep understanding of customers, pain points, and how digital interactions can lead to valuable solutions.
UX Designer Key Responsibilities:
Conduct user research to understand behavior, needs, and motivations.
Design wireframes, mockups, and prototypes to visualize user flows and interfaces.
Test designs with users to gather feedback and iterate on solutions.
Ensure the digital product meets user needs and solves user problems.
UX Design Tools Often Used: Sketch, Figma, Adobe XD, InVision, User Testing
3. Product Design Explained | What are Product Designers?
"If it's user-friendly but isn't cost-effective, is it still well-designed?" Diving a level deeper, product design thinking calls for questions like this one. As UX design is a subset of product design, the latter is more holistic. It isn't limited to the digital realm, and it encompasses the entire product lifecycle, from conception to delivery.
The product designer's mission is to ensure the end product is both desirable for users and viable for the business. As the title suggests, the role entirely revolves around the product. While the customer experience is still important to product designers, they must consider market shifts, technical constraints, and business goals in addition to user needs.
Unlike UX and UI design, product design is about more than the user-friendliness and effectiveness of design aesthetics and digital interactions; it's about a product's ability to deliver business results.
Product Designer Responsibilities:
Understand the broader business goals, market needs, and technical capabilities.
Define the product's functionality, features, and specifications.
Oversee the entire design process from ideation to final product.
Ensure the product is usable, desirable, and viable in the market.
Product Design Tools Often Used: Many of the same tools as UX and UI designers, but also tools like Roadmunk, Jira, or Trello for product planning and management
4. XD Explained | What are Experience Designers?
"What if the product design is excellent, but the customer experience is not?" The answer to this question is the reason why Experience Designers are in increasingly high demand. Often synonymous with customer experience (CX) design, XD is a broader area that extends beyond the digital realm and the product itself.
XD refers to the process of mapping the entire customer journey – including physical and digital interactions. Website visits. Phone calls. In-store purchases. From marketing to sales, XD focuses on every touchpoint a customer has with a brand.
While some professionals don't recognize the difference between UX Design and the newly developing field of Experience Design, XD is often understood to be a larger umbrella term encompassing UX among other design careers. The distinction is nuanced but important to keep in mind when defining design roles, applying to them, recruiting designers, or setting salaries.
Experience Designer Responsibilities:
Gather customer feedback, understand pain points, and identify opportunities.
Map the complete customer journey including all touchpoints.
Design digital and physical interactions across various channels.
Collaborate with different deparments teams to ensure a delightful customer experience.
Experience Design Tools Often Used: Customer journey mapping tools, CRM systems, feedback collection tools, and service design blueprints
There's undeniable overlap between UI, UX, Product, and Experience Design, but each has a unique lens.
UI designers focus on the visuals of interactive elements while UX Designers zoom in on the user's interactions with a product or system. Product designers take a holistic view of the product, from its usability to its place in the market. And experience designers zoom out to view the entire spectrum of a customer's journey.
In reality, many designers wear multiple hats, the lines between design roles can blur, and often, companies need a mix of designers to position their design teams for success. Still, it can be as difficult to find the right designer as it is to choose between design careers. Understanding these distinctions can help companies decide which talent is right for their needs and guide aspiring designers on the best path forward.
---
Find the right designers for you.
At Onward Search, our design recruiters are subject matter experts who understand the distinct differences between design roles. They partner with you to learn your unique needs and find the right designer for your next project.
Request Design Talent
Tell us what you're looking for, and connect with vetted designers or top consultants.